Can't make it across town to the office to discuss your allergy symptoms? Need a refill of a medication but are not able to make it to the office during work hours for an appointment? Ballantyne Medical Associates, PLCC is now offering telemedicine appointments for evaluation and management of certain conditions and illnesses.
Kelly works day-to-day alongside the doctors and PAs at Ballantyne Medical Associates and helps us by running our Electronic Video Visits service to avoid any gaps in care and access. Kelly has a keen knowledge of technology and electronic medical records. Kelly graduated from Villanova University's College of Nursing in Philadelphia, PA with her BSN in 2016 and shortly thereafter started working at Carolinas Medical Center on a Medical-Surgical/Behavioral Health Holding unit. She continues to work PRN as a Clinical RN III on the unit and is the Unit Based Clinical Educator while maintaining her ANCC Medical-Surgical RN Certification. She then graduated from the University of South Carolina with her MSN in May 2021. Kelly is an ANCC Board-Certified Family Nurse Practitioner and also a SAMHSA Buprenorphine Waivered provider. She enjoys caring for her patients' both physical and psychosocial needs in the primary care setting and has a passion for working with individuals with disabilities, as she is the older sister of a brother with autism, whom she adores. In her spare time, she enjoys managing her own non-profit charity, Shoes for Charlotte, and working directly with individuals experiencing homelessness in the Charlotte area.
Please call our office at 704-540-1640 to schedule an appointment with Kelly. We offer telemedicine appointments during designated times throughout the day so we can accommodate your busy schedule.
Please note: Some patient problems will require an in-person evaluation, our staff will help you determine if telemedicine is an appropriate platform to address your concerns and needs.
Please see the below information regarding telemedicine appointments:
Appointments will be conducted using the "8x8 Meet" application You do NOT need to download an app on your smartphone to use this application.

A link to the appointment waiting room will be sent to your email on file (confirm with office staff when scheduling your appointment). Please make sure to check your Spam or Junk folder if you do not see the email within 15 minutes of your scheduled appointment time.

You may access your appointment waiting room via computer or smartphone. You must have both video and audio capabilities on whichever device you choose.

Know that all insurance charges and deductibles will apply to Telehealth Appointments requiring medical decision-making according to new HCPCS/CPT codes for communication-based technology services. By the use of the Telehealth Medicine platform, you are accepting and consenting to these terms and services.

If you have questions following your appointment or need to follow up, please utilize the Patient Portal or call the office as usual so we can address your concerns. Please do NOT use the email address from which you receive the link to your telemedicine appointment as this is not an appropriate method of communication and we do not want your questions to go unanswered.

Scheduled for a telemedicine appointment and have questions or want more information? Please see the telemedicine instructions below that have been sent to your email address for your upcoming appointment:

You do NOT need to download the 8x8 Application, we recommend using "Web Access" to access our appointment meeting. You may access this link via your phone or computer. Make sure to "allow" camera and microphone access so we can hear and see each other! Please see the detailed instructions below including screenshots if you are using your mobile phone.

Please make sure you have a photo ID with you so we can verify your name and DOB at the start of your appointment. Once you access the meeting, the provider will need to "start" the meeting on his/her end. We apologize in advance if the provider is running a few minutes late as she may also be seeing patients in the office. Your visit is very important to us and we will be with you as soon as we can! You can wait in the virtual waiting room until the provider is able to start the telemedicine visit.

Please remember that all insurance charges and deductibles will apply to Telemedicine Appointments requiring medical decision-making according to new HCPCS/CPT codes for communication-based technology services. By the use of the Telemedicine platform, you are accepting and consenting to these terms and services.
Please see the screenshots below for an example (mobile version):
1. Click link found above. Press continue.
2. You can edit your name from "Guest" if you want. Click Ask to Join. There is no meeting password!
3. You are ready to start the meeting! Wait here in our "virtual waiting room" until I start the meeting. You do not need a password or to do anything from here. Just wait for the appointment to begin!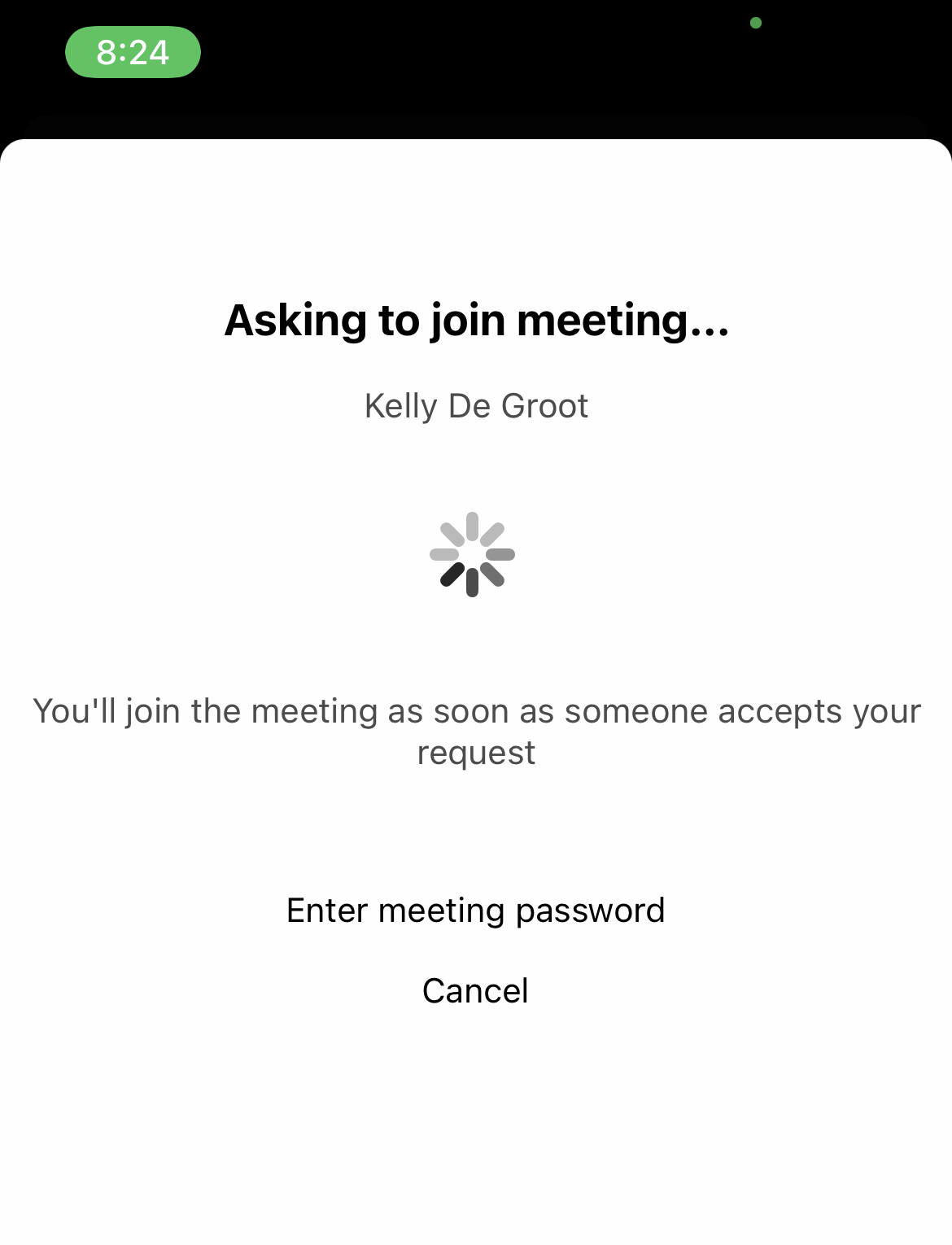 4. Once I start the meeting, you will be able to see me and I will be able to see you. Just give the program a second or two to connect us. If I tell you I cannot see or hear you, click on the following buttons in the bottom left-hand corner of your screen: